NEWS
Dec.13,2013



Page 036 to "Teaching Flo To Ride" was uploaded on November 29 to Patreon. These newer pages are only available to my patrons. The previous pages are still available for viewing on my Tumblr page.

"Beneath The Catacombs" is still free for viewing... but support would be deeply appreciated.

You may consider becoming a patron for only a $1.00 ... how it works is: for every piece of work I submit, for my patrons, those patrons are charged one dollar. For example-- I plan to submit one patron page for "Teaching Flo To Ride" each week. This would total to 4-pages for each month. Each $1-patron would therefore only be charged a total of $4.00 for the month. There are two other levels to being a patron: $5.00 and $10.00 per patrons' page. The higher patron levels receive additional benefits, such as high-rez copies of certain page-panels and/or high-rez copies of 3d renders of other artwork. Currently I've uploaded a new high-rez 3D render of KY from the CTC, also a high-rez revisioned look of the "Ethereal Dawn" for the upcoming storyline, "Spirit Onsen."

There is a safety net in place for those of you who might be concerned about being charged to much/month. You can set a limit amount for each month... however, I do not intend to be irresponsible to my patrons by cranking out endless material in the attempt at being greedy-- my ethics will not allow me.

In-between these projects, I'm working on a new short video, "Sorrows End - A New Beginning," for the $10 patrons viewing pleasure. It's going to be so COOL!! ... ... ... really. ;)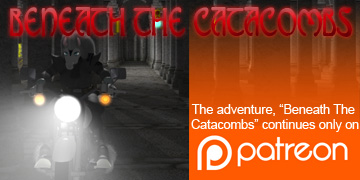 "TEACHING FLO TO RIDE WITH THE PACK"